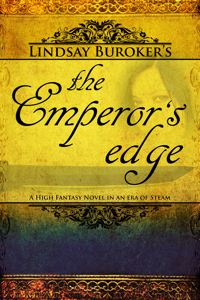 Hey, everyone, this is my first book review, so bear with me. I'm really not very good at this. Today I will be discussing the book
The Emperor's Edge
by the amazing self-published author, Lindsay Buroker.
The Emperor's Edge
is a swashbuckling steampunk tale of suspense and adventure, with just the perfect twist of humor. Amaranthe Lokdon is a police enforcer in the capitol of the Empire of Turgonia. When the chance arises to get promoted to Sergeant,
Amaranthe jumps at the opportunity. There's just one small problem. To get her long awaited promotion, Amaranthe must hunt down and kill the notorious assassin, Sicarius, who has a kill list miles long and has never been captured. But Amaranthe will do anything necessary to get her promotion. Besides, the assassin has killed dozens of police enforcers, so shouldn't he be brought to justice?
Things take a turn for the worst when while receiving her assignment, Amaranthe learns of a plot by a powerful company to kill the young Emperor, Sespian. She feels obligated to protect him by stopping the responsible party. But can she stop them? It will take all of her police training, plus a team of misfits to save the Emperor.
OK, Here's my opinion of The Emperor's Edge in one word: gripping. Yes, this book is certainly a page-turner. The descriptions, the danger, the character personalities, all of it combines to make a book so thrilling, I honestly couldn't think of anything else for weeks. I read it all in one day; I just could not put it down. Amaranthe's schemes are creative, and her team she puts together is both funny and loyal. I think my favorite Character is Sicarius, simply because he is the very definition of awesome. He is so good at not being caught that everything in me screamed, "How could he be a bad guy?" Fortunately, After Amaranthe fails to kill him, it is revealed that he is one of the good guys. Amaranthe and her team's mission is simple: Protect the Emperor, even though they have been branded outlaws by the government. They will stop at nothing to protect the Emperor, even if it means blowing a lot of things up. Especially if it means blowing things up. Together, Amaranthe, Sicarius, and all her team make up the best team of hero misfits Turgonia has ever seen: The Emperor's Edge.
Also, The Emperor's Edge is the first in a series of seven novels. the sixth and seventh have not been released yet. I highly recommend the series!